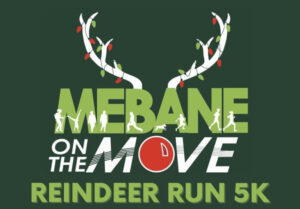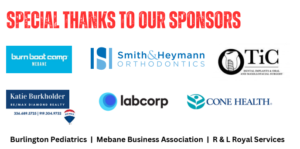 The 14th annual USATF certified event will be held at 8:00 AM, December 16th, 2023.
Registration is LIVE.
New this year – a team challenge!  Join the festive fun this holiday season by forming a team for the Reindeer Run! Rally your friends, family, or coworkers and embrace the spirit of togetherness as you race towards the finish line. Create lasting memories, celebrate the holidays, and make this 5K a memorable team experience.  
Our jurors will be keeping an eye on teams during and after the race, and will award the top two most spirited teams with prizes!   When you register, you will see an opportunity to either create a team, or join one.  See you
on December 16
th
with bells on!

Thanks to all the participants, volunteers, the City of Mebane, and sponsors of our 2022 5k and Merry Mad Dash! It was great to be back after a 3 year break. We couldn't have done it without you. All proceeds from the race benefit Mebane on the Move initiatives.
Race Day Info
See starting times, race map and more
Awards & Results
It wouldn't be a race without great prizes!